Michael F. Shibley
Fine Artist in Oil and Watercolor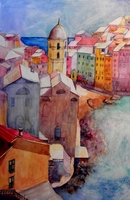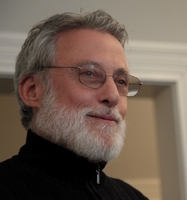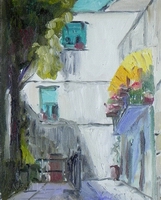 Michael Shibley is a local artist who lives in Takoma Park, MD. His artwork has been recognized through a variety of awards and professional citations. His original watercolors and oils that focus on light, shape and color in the natural and man-made landscape can be found in both public and private collections in the Washington area and across the country.

His use of color attracts attention at local art galleries and group shows. His colorful urban landscapes depicting people participating in urban life have proved increasingly popular and have resulted in numerous commissioned works.

Michael offers personal tutoring in watercolor as well as larger classes. He is currently an art instructor at the Yellow Barn Studio at Glen Echo Park. His class, "Finding Your Watercolor Style" offers students painting techniques and approaches for application to the student's preferred subject matter.

Michael is also an active participant in the Washington, D.C., area art community including the Montgomery Art Association (MAA); the Takoma Watercolor Group; the Fredericksburg Center for the Creative Arts, and is a Friend of the Yellow Barn. He has also been invited to serve as a Juror at local art exhibitions.
Awards and Recognitions
Third Place, Landscapes, Montgomery Art Association (MAA), Sept 2016
Honorable Mention, People/Portraits, Montgomery Art Association (MAA) Sept 2015
Third Place, Miniatures, Potomac Woman's Club Show, June 2014
First Place, Miniatures, Woman's Club of Chevy Chase, March 2014
Second Place, Garrett Park Invitational Exhibition, April 2014
Selected for the Yellow Barn Members Show, December 2013
Second Place, People and Portraits, MAA, Labor Day Art Show, 2013
Third Place, Landscape, MAA, Friendship Heights Show, 2013
First Place, Abstract Category, Montgomery Art Association (MAA), 2012
First Place, Landscape Category, Fredericksburg Center for the Creative Arts, 2011
First Place, Landscape Category, Montgomery Art Association (MAA) 2011
Second Place, Abstract Category, Montgomery Art Association (MAA) 2011
Second Place, Landscape Plein-Air Category, St. Michael's Art League, 2010
www.michaelswatercolors.com • mfs-art@comcast.net • 301-807-6890
Exhibitions
Solo
Solo Show at Penn Place Gallery, October 2017
Solo Show at the Goldman Gallery, February 2017
Solo Show at the Yellow Barn Gallery, May 2016
Solo Exhibition, MedStar Olney, 2015-2016
Solo Show at Penn Place Gallery, July 2015
Solo Show at the Yellow Barn Gallery, May 2013
Solo Show at the Yellow Barn Gallery, May 2011
Artist in Residence, Chatauqua Stone Tower at Glen Echo Park, March 2011
Solo Show at Thomas Farm Community Center, February 2010
Group
Pate Painters Show at the Yellow Barn, 2011, 2012, 2013, 2014
Pate Painters Show at Gallery B, Bethesda May, 2012
Pate Painters Show River Road Universalist Unitarian Congregation, 2015
Pate Painters Show at Brookside Gardens 2012, 2014
Pate Painters Show at Rockville Universalist Unitarian Congregation, 2014
Washington Watercolor Association Show, 2012
Washington Watercolor Association Show, 2011
Montgomery Art Association, Annual Paint the Town Show, 2009-2016
Takoma Watercolor Group Show 2011 and 2013
Montgomery Art Association Gallery, 2010-2016
Artist's Statement
My work is produced both in my studio and plein air. I work from my photographs of subject matter or scenes that contain contrasting light and dark shapes. I work with the shapes found in the photos to produce small scale value sketches and/or line drawings. Thin tracing paper over the photos allows me to screen out unimportant elements and highlight or insert desirable ones. My approach is to limit the sketches to three or four basic values. Most sketches are 4 x 6 or 5 x 7. From that I produce a drawing and from that the final painting.

My work focuses on light, shape and color in the natural and man-made landscape including people participating in urban life such as street scenes, cafés, and street markets among others. My materials and methods vary by painting but I use gesso (both black and white); guache; pen and ink; felt tip pens; water soluble wax pastels; varnishing to highlight colors; white absorbent ground to create a textured painting surface; and, quality watercolor pigments. My preferred paper is cold-pressed Fabriano.

www.michaelswatercolors.com • mfs-art@comcast.net • 301-807-6890