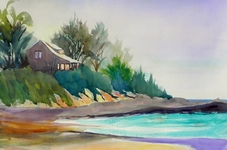 Landscapes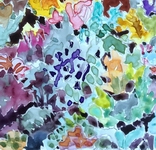 Abstract
The artwork of Washington, DC area artist Michael F. Shibley has been recognized through a variety of awards and professional citations in the art community. His original watercolors that focus on light, shape and colors in the natural and man-made landscape can be found in both public and private collections in the Washington area and across the country.

Michaelís use of color in the watercolor medium attracts attention at local art galleries and group shows. He has expanded his range of subject matter to include abstract shapes and portraits. His colorful urban landscapes depicting people participating in urban life have proved increasingly popular and have resulted in numerous commissioned works including personalized house portraits.

Michael is continuing his growth as an artist by painting in oils as well as watercolor. His oil paintings are reflections of his watercolor style by focusing on the vibrant use of color, and concentrating on light, shape and shadow in both the landscape and the built environment. He will continue his pursuit of new techniques and approaches to his art including increased plein-air work and abstracts in both oil and watercolor.