CLASSES

Michael teaches watercolor painting at the Yellow Barn Studio at Glen Echo Park. "Finding Your Watercolor Style" will be offered in the Spring and Summer, 2017. Yellow Barn Course Description: Every artist has a style that reflects who they are as an artist. In this class, you will learn watercolor painting techniques that will enable you to identify and develop your personal watercolor painting style.

The class will focus on practical techniques for creating a variety of effects in your artwork. Class time will be spent identifying and developing the techniques you can apply to your own subject matter. Technique demonstrations compliment both group and individual instructions.

Demonstration topics include drawing and sketching; color mixing; use of shapes and values; painting skies; trees; water and reflections; people; and, the introduction of interesting materials that will enhance your work. Students work at their own pace to begin to develop their personal style.

Register early in 2017 to avoid filled classes. Go to http://glenechopark.org/classes

Private Lessons

Michael offers private tutoring in watercolor for individual students. Classes cover painting materials and equipment; color mixing; drawing and sketching; composition; shapes and values; and using photos as the basis for a painting.

Suggested Supplies List for Classes

For both beginning and intermediate watercolor students, the choice of supplies can be confusing and difficult. In order to help my students get started, the following suggestions are offered that reflect what I use for my artwork. I have found the listed resources to be useful, dependable and affordable.

The first recommendation is always buy good quality paints, paper, and, particularly, brushes. Buying cheaper alternatives can compromise the quality of your artwork. A wide range of supplies is available online from the listed sources. Go to these sites and create an account for yourself. Then you will receive notifications of the frequent online sales opportunities that offer free shipping. A good idea is to order with an artist friend to reduce your individual costs during the sale offerings.

www.aswexpress.com
www.jerrysartarama.com
/www.cheapjoes.com
www.dickblick.com

Paints and Palette

A good basic palette which serves lots of purposes and the one I use is the John Pike palette. It has 20 paint wells and a single large mixing area. Other similar palettes have divided mixing areas. It's a question of preference rather than performance.

Paints can and should be a very personal choice. However, for beginners and intermediate artists, I strongly recommend limiting the number of colors you have on your palette. Too many colors can be confusing and difficult to manage, particularly at the beginning. As you can see from the photo, I use a very limited and consistent group of colors. This has the advantage of producing consistent color mixes and a unified look to my work. You can always augment your palette with a favorite color for special subjects like beach scenes, etc.

Good paint brands include Winsor and Newton (W/N); Daniel Smith (DS); Holbein; Golden QoR.

Blue: Cerulean, Cobalt, French Ultramarine (All W/N), Phthalo (DS) or Winsor Blue Red Shade (W/N). Note: Phthalo is a brand name commonly used to describe this highly staining color). Winsor Blue Red Shade is the same color.
Red: Permanent Alizarin Crimson, Permanent Rose and Cadmium Red (All W/N)
Yellow: Quinachridone Gold, Raw Siena, Indian Yellow, New Gamboge (All W/N); Quin.Gold Deep (QoR)
Brown: Burnt Siena, Raw Umber (Both W/N)
Other: Cobalt Teal (DS);Winsor Violet (Dioxazine) (W/N), Indigo (QoR) and White Gouache (for highlights)

A good basic palette would have Cerulean Blue, Cobalt Blue, Ultramarine Blue, Phthalo or Winsor Blue Red Shade, Permanent Rose, Alizarin Crimson, Quinachridone Gold, Indian Yellow, Raw Siena, Raw Umber, Burnt Siena. Additional colors that are good would be Cobalt Teal (DS), Winsor Violet (Dioxazine)(W/N) Indigo (QoR)

NOTE: If you are just getting started and you are working from a budget, then I would recommend Cobalt Blue (W/N), Phthalo Blue (Red Shade) (DS) or Winsor Blue Red Shade (W/N)); Alizarin Crimson, Cadmium Red, Raw Siena, and Quinachridone Gold. Budget permitting--one additional color recommendation would be Permanent Rose (W/N).


You will notice that I didn't list any greens. I prefer to mix my own greens using the various tones of blue and yellow on the palette. A tube green like Hooker's green, for example, tends to dominate a painting whereas a mixed green will provide nice shades of runny green color and maintain the color links with the rest of the palette. Mixing greens will be covered in class.

Brushes: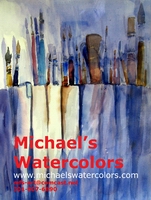 As with paints, there are a number of choices in brushes. The best advice I can give you is to buy good quality brushes despite the initial expense. Buying one or two really good brushes is a good investment in your art supplies. My experience is that good brushes when well cared for will last a long time. I strongly discourage the purchase of the brush packs at a cheap price. They will not serve you well.

Invest in buying the BIGGEST BRUSHES YOU CAN HANDLE. DON"T FIDDLE WITH SMALL BRUSHES. It is the curse of beginning and intermediate watercolor painters. Bigger brushes allow you to be free with the water and the paint. I suggest you start with a #10 sable round (or synthetic depending on your budget), and a rigger which allows you to make thin lines. A one inch flat brush is very useful. A #6 squirrel mop (which I use a lot) is my favorite brush, but it's not essential. High quality mops are around $58 (Da Vinci, Raphael). Less expensive but very good alternatives are made by Neptune and by Danube. They range from $16-20 online.

Paper

Like paints and brushes, there are lots of choices in watercolor paper including the texture, weight (or stability of the paper), the color and the manufacturer. For the class, I would recommend 140lb Cold Press paper. My favorite is Fabriano traditional white in either pads or loose sheets. For class purposes, I would suggest a 9 x 12, 12 x 18 or 14 x 20 pads. Pads or packets usually come with 10-20 sheets. Again, don't buy cheap paper. Your flexibility for corrections and painting techniques are better with a good quality paper. Rough textured paper is also fun to experiment on but I would go with Cold Press to start. Fabriano papers are available at PlazaArt, Michael's and AC Moore and, of course, online. Larger sheets can be ordered from the supply houses listed.

References

Below are listed some of my favorite print and video resources. Over the years, I have frequently returned to these trusted painting resources. Most of them are available on Amazon or other online service such as APV Films.

DVDs

All of these DVDs are available at www.apvfilms.com. Then click on DVDs to see the selection of artists. My suggestions are:

Robert Wade: Robert Wade's Watercolor Workshop;. Robert Wade's Watercolor Wisdom; Robert Wade's Watercolor Solutions; Simply Watercolor; Watercolor Wade's Way

David Curtis: Light and Mood in Watercolor

John Lovett: (10 Minute DVDs on various watercolor techniques and subjects): Seascape; Painting from Photos Made Easy; Paint Easy with only two colors; Landscape; Trees, Fences, Road and Buildings; Fast and Easy Pen and Wash

David Taylor: Solving the Mystery of Watercolor; Looking for the Light

Books

Robert Wade, Watercolor Workshop Handbook
David Taylor, Solving the Mystery of Watercolor
David Curtis, Light and Mood in Watercolor
Trevor Chamberlain, Light and Atmosphere in Watercolor
Ron Ranson, Painting Skies